Servicing others is the highest calling on earth, and family law attorneys are uniquely positioned to make a difference in people's lives during difficult times. The practice is about storytelling, counseling, caring for, and helping people through some of their most difficult experiences. Sometimes these experiences can relate to complex, intimate family relationships.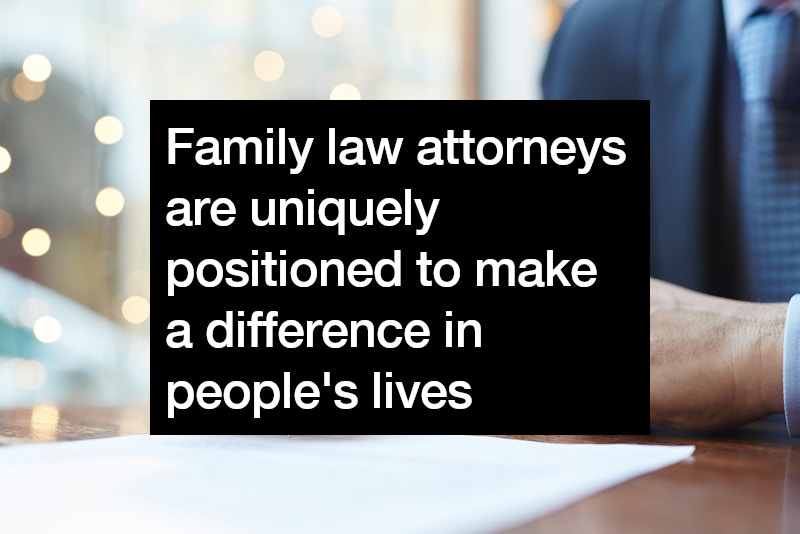 Areas of family law are diverse but localized to family tree legal advocacy. Cases range from adoption, divorce, custody or child support, marital property, juvenile justice, gender-based violence, and protective order cases. Transactional aspects include drafting prenuptial agreements, cohabitation agreements, division of marital property, emancipation, alimony, and paternity.
All cases don't have to end in court as most are resolved through alternative dispute resolutions like mediation. Family law is an international practice. You can easily find yourself in a federal district court litigating an international parental kidnapping case.
A family law process has the potential to affect relationships at the most fundamental level profoundly. Understand that what you do can have long-lasting consequences for others. Being effective in your craft means you're better positioned to protect your clients and get them the justice they deserve.
Essential family law tips include never stopping reading and exploring the dark corners of your craft and knowing the rules of evidence inside and out. You must also work on mastering specific skills like mitigating family conflict, negotiating, linkage, documentation, and courtroom oral advocacy. You also need to read up on mental health issues. As you begin a career in family law, remember you'll be building a legacy, so make it count.
Updated 9/26/22.
Being a family lawyer is not easy. It takes years of hard work and dedication, but if you are serious about becoming a family law attorney, then nothing should stop you. If you are interested in being a family lawyer, then you need to start by getting yourself certified as an attorney. There are many ways to get certified as an attorney. One way is to go to school and earn a degree in law. Another way is to take online courses and pass the bar exam.

To become a family attorney, you need to know the basics of family law to understand what your clients want from you. You also have to communicate with them in their language so they will feel comfortable talking to you. The most important thing for you to remember before becoming a family law attorney is that you must love helping people because this is what you will be doing every day. Another important thing to note is that attorneys in divorce family law are always in high demand. You should therefore prepare for minimal breaks. In some cases, you might need to work past office hours or even during the weekend.
To become a family lawyer, there are many necessary steps to take in order to make our dreams come true. This includes completing an undergraduate program, getting your graduate degree, and passing the examinations and licensing tests. It's a long but prosperous journey that only a few are able to successfully complete. Let?s take a look at what you need to do in order to obtain your licensing and become a family lawyer.
The first and primary step to becoming a family lawyer is completing the minimum academic requirement for law school. A bachelor's degree from a university will get you started. While there may not be a specific field of study recommended by the American Bar Association at the undergraduate level, it common for potential lawyers to have a business, political science degrees, or something that will help them get use to office work. Other common degrees includes philosophy, journalism, and English.
Step 2 is to take and pass the Law School Admissions Test. This test is a crucial component to getting admitted to the law school of our choosing. The score form the LSAT will be used to determine your level of aptitude to performing legal work and being able to move on to the next level. In order to become a litigation attorney, it?s important that the law school knows that you have exactly what it take to succeed in the profession. Whether you want to be a family lawyer, criminal attorney, or a civil rights lawyer you will need to score well on the LSAT in order to be admitted to law school. The exam will test your skills in reading comprehension, information management, critical thinking, reasoning, and argumentation.
Once you?ve successfully passed the Law School Admission Test, now it?s time to pick which law school you want to go to. It?s important that the school your choose has the right accreditation and a certified by the American Bar Association. Along with your GPA, the score of your LSAT, your letters of recommendation form legal professionals or educators will play a huge part in your acceptance. Put time in researching your potential school and take note of the deadline to have all your documents submission on time.
The fourth step to becoming a family law divorce lawyer is by obtaining your Juris Doctor degree. The JD is a nationally recognized degree for anyone practicing law and is offered by accredited law schools all over the nation. Ensure that you concentrate on the areas of study that interests you the most. Make sure that you filed of law is something that you are passionate about and will love doing for quite sometime. The JD is usually completed in about three years for full time students.
Last but not least, before you can become a family lawyer you must pass the bar exam. Not all states have the same guidelines for the bar examination but in most case the exam itself is a two day process. The first part is the Multistate Bar examination while day two will focus a written test about legal matters. Prior to receiving you license the state board will also take into account your educational background, competence level regarding legal work, and you ability to represent other individuals of entities in court. Once you?ve completed these things you?re on you way to obtaining your license and becoming a family lawyer.